<![if !supportEmptyParas]> <![endif]>

A Summary of Mason's, Morley & Ashworth
Factory Marks


IRONSTONE CHINA has always held a particular fascination for me. I began
researching during the early 1960's pursuing an interest as a collector and then as a dealer.
IRONSTONE wares are particularly attractive and today avidly sought by collectors on
both sides of Atlantic.
Its decorative quality and naive charm are admired by all. Many of the designs and colours
were based on early Imari pieces.
Imperfections such as paint runs,handles askew, all add to
the charm. The vast array of patterns and shapes never fail to excite the imagination,
the chance of finding a rare interesting piece still keeps the collector ever vigilant.
Identifying the factory, Turner, Spode, Davenport, Hicks & Meigh, Stephen Folch, or
Ridgway. All producing Ironstone-type wares in competition with Mason's and in some
cases producing the same pattern.
New marks on retailers, colleges, regiments and armorial are constantly
being found and recorded.


Ceramic ware produced between 1842 and 1883 bore a diamond-shaped registry mark.
The date recorded indicated when the design was introduced but not necessarily when
the item was potted, this protection lasted three years.
Index to Year and Month Letters
<![if !supportEmptyParas]> <![endif]> <![endif]>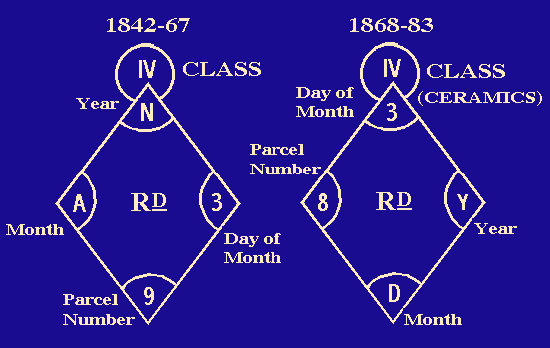 +
1842-67

Year Letter at Top

1868-83

Year Letter at Right
| | | | | | | | |
| --- | --- | --- | --- | --- | --- | --- | --- |
| A | 1845 | N | 1864 | A | 1871 | L | 1882 |
| B | 1858 | O | 1862 | C | 1870 | P | 1887 |
| C | 1844 | P | 1851 | D | 1878 | S | 1875 |
| D | I852 | Q | 1866 | E | 1881 | U | 1874 |
| E | 1855 | R | 1861 | F | 1873 | V | 1876 |
| F | 1847 | S | 1849 | H | 1869 | W | 1878 |
| G | 1863 | T | 1867 | I | 1872 | X | 1868 |
| H | 1843 | U | 1848 | J | 1880 | Y | 1879 |
| I | 1846 | V | 1850 | K | 1883 | | |
| J | 1854 | W | 1865 | | | | |
| K | 1857 | X | 1842 | | | | |
| L | 1856 | Y | 1853 | | | | |
| M | 1859 | Z | 1860 | | | | |
| | | | | | | | |
| | | | | | | | |
| | | | | | | | |
| <![if !supportEmptyParas]> <![endif]> | <![if !supportEmptyParas]> <![endif]> | <![if !supportEmptyParas]> <![endif]> | <![if !supportEmptyParas]> <![endif]> | <![if !supportEmptyParas]> <![endif]> | <![if !supportEmptyParas]> <![endif]> | <![if !supportEmptyParas]> <![endif]> | <![if !supportEmptyParas]> <![endif]> |
<![if !supportEmptyParas]> <![endif]>
<![if !supportEmptyParas]> <![endif]>
| | | | |
| --- | --- | --- | --- |
| A | December | K | November & December 1860 |
| B | October | M | June |
| C or O | January | R | August (and Sept 1-9 1857) |
| D | September | W | March |
| E | May | | |
| G | February | | |
| H | April | | |
| I | July | | |

<![if !supportLineBreakNewLine]>
<![endif]>

From 1884 designs were registered by numbers (each starting in January of the year in question)
| | |
| --- | --- |
| Rd No 1 | 1884 |
| 19754 | 1885 |
| 40480 | 1886 |
| 64520 | 1887 |
| 90483 | 1888 |
| 116648 | 1889 |
| 141273 | 1890 |
| 163767 | 1891 |
| 185713 | 1892 |
| 205240 | 1893 |
| 224720 | 1894 |
| 246975 | 1895 |
| 268392 | 1896` |
| 291241 | 1897 |
| 311658 | 1898 |
| 331707 | 1899 |
| 351202 | 1900 |
| | |
<![if !supportEmptyParas]> <![endif]>
<![if !supportEmptyParas]> <![endif]>
<![if !supportEmptyParas]> <![endif]>
Mason's Patent Ironstone China

Mason's Factory Marks
<![if !supportEmptyParas]> <![endif]>
Mark 1

Impressed circle 'Patent Ironstone China'
C.1813-20

Mark 2

Impressed in two lines 'Mason's Patent Ironstone China'
C.1813-20

Mark 3

Impressed in one line 'Mason's Patent Ironstone China'
C.1813-20

Mark 4

Transfer printed crown with banner (colour washed with the last paint colour of the day) also showing a round impressed circle mark
C.1813 - 1820

Mark 5

Transfer printed blue or black with banner, note the
large spaces between letters
C.1815-30

Mark 6

Printed name of each view, within a beaded border, this mark is on William Mason blue and white ware sometimes with a clobbered border
C.1820

Mark 7

Red enamel script C.1820-25 [Rare]
only found on Mason's porcelain bodies
C.1815-20

Mark 8

Transfer printed in blue C.1820-30
Mason's Siamese Jardinere [Rare]

Mark 9

Transfer printed in blue C.1820-30
Patent Yacht Club finger Bowl and Crown [Unusual]

Mark 8

Transfer printed found mostly on jugs
C.1825-40

Mark 9

Transfer printed crown, above crown 'British Lakes' below 'New Stone China, Derwentwater,C.J.M & Co.' on blue and white transfer ware C.1830-

Mark 10

Transfer printed black crown with banner,
note the change in the crown shape.
C.1825-

Mark 11

Transfer printed black crown with
raised dias impressed 'TOHO' mark
C.1825-40

Mark 12

Transfer printed black crown
note the change in crown shape to angular
C.1830-48

Mark 13

Transfer printed in black,usually on large pieces
C.1830-48

Mark 15

Transfer printed 'Royal Terra Cotta Porcelain'
with Lion insert, usually on jugs
C.1840-

Mark 16

Transfer printed in blue, inside scroll 'F.M.Morley'and pattern name 'Vista'
C.1845-56

Mark 17

Transfer printed in blue usually with the name 'Morley & Ashworth' and 'Imperial Stone' mark
C.1855-62

Mark 18

Transfer printed in puce 'A.Bros, Real Ironstone China'
on the right impressed Ashworth
C.1862-

Mark 19

Transfer printed crown and bannerwith pattern number
'C.1617' and the impressed '14' this mark would be
1914, the word ENGLAND was introduced after 1891

Mark 20

Transfer printed crown and banner, England and pattern number 'C.4230', C.1935-36 with the pattern name 'Nabob'


This mark is after 1920.
'MADE IN ENGLAND' introduced after 1923

Mark 21

Transfer printed crown and banner, England and pattern name 'Vista'& GUARANTEED PERMANENT & ACID RESISTING COLOURS'

This mark is after 1940

Mark 22

Transfer printed crown and banner, Made in England, pattern name 'Fruit Basket' & PERMANENT DETERGENT PROOF DECORATION

This mark is after 1950




Morley & Ashworth Pattern Numbers
1862 G.L.Ashworth & Sons

From C.1872 the 'B' (orange script numerals) series used
<![if !supportEmptyParas]> <![endif]>
B 2379

B.2633

B 2890

B 3129

B 3382

B 3560

B 3756

B3994

B 4630

1872

1873

1874

1875

1876

1877

1878

1879

1880

B5353

B 5659

B 5985

B 6341

B 6630

B 6864

B 7234

B7515

B 7702

1881

1882

1883

1884

1885

1886

1887

1888

1889

B 7876

B 8021

B 8162

B 8222

B 8418

B 8581

B 8665

B 8790

B 8981

1890

1891

1892

1893

1894

1895

1896

1897

1898




From C.1900 Ashworth used a 'C'(orange script numerals)
series used 1900 - 1979
<![if !supportEmptyParas]> <![endif]>
C 1

C 1304

C 1760

C 2000

C 3000

1900

1903

1915

1920

1930

C 4000

C 4500

C 4700

C 4800

C 4900

1935

1936

1940

1946

1979
<![if !supportEmptyParas]> <![endif]>
<![if !supportEmptyParas]> <![endif]>
<![if !supportEmptyParas]> <![endif]>
FAKES (NOT MASON'S WARE)
<![if !supportEmptyParas]> <![endif]>Please look at the chapter FAKES available from the front page
<![if !supportEmptyParas]> <![endif]>
TO ENTER 'Janice Paull's Web Site' Click Button Below